Spanish leader in innovative and sustainable surfaces, Cosentino Group, unveiled two new Silestone®️ collections: Le Chic and Urban Crush. These collections feature cutting-edge design and sustainable technology. It is the brand's first release in two years and promises to set new interior design trends with its luxurious appeal.

Valentin Tijeras, Vice President of Product, Innovation, and Quality at Cosentino, expressed the importance of upholding their core values of innovation and sustainability in every product they offer. Besides, he highlighted the significant advancements in surfacing technology achieved with Le Chic. Additionally, he emphasized how Urban Crush reflects their continuous monitoring of modern design trends. These collections represent an exciting milestone for the Silestone®️ portfolio, moreover, he takes pride in their ability to manufacture them using their HybriQ+®️ technology sustainably.
by Adriana Ozlan
Cosentino Introduces a Sophisticated Look with Le Chic Collection
The Le Chic collection blends fashion and design, featuring patterns with expressive veins and metallic accents against neutral backgrounds like cream, deep blues, and blacks, creating depth-filled designs. It undoubtedly captures Victorian and Parisian charm with a modern, timeless touch.
This marks a significant advance in Cosentino's surface manufacturing, introducing a new design system for intricate, interlocking veins. Its innovation relies on the brand's new moulding process, giving life to particles and minerals of various sizes, resulting in a unique texture. The collection includes six designs: Parisien Blue, Eclectic Pearl, Versailles Ivory, Victorian Silver, Bohemian Flame, and Romantic Ash.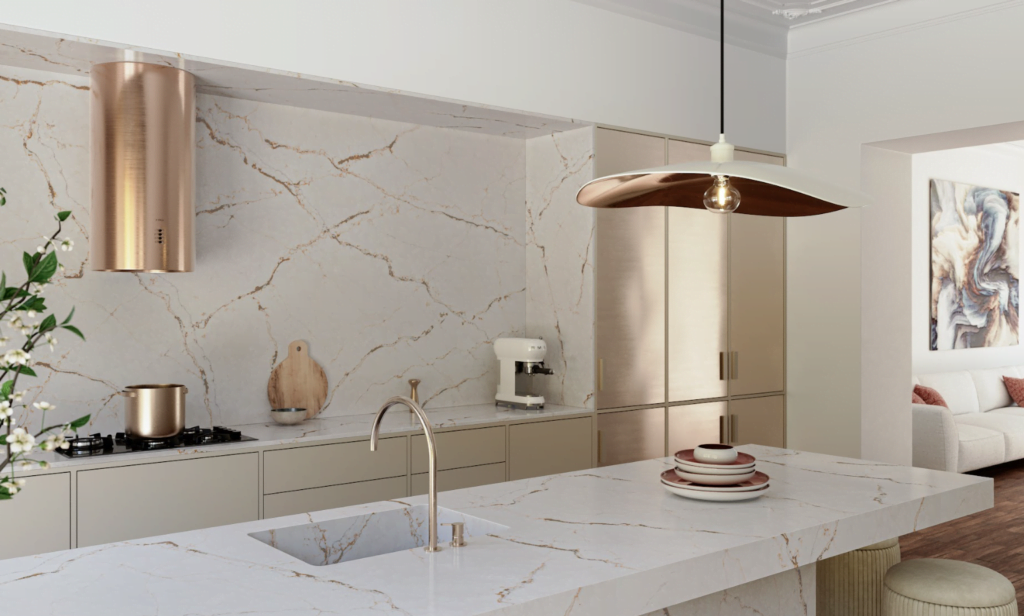 Urban Crush by Cosentino: Transform Your Space with Industrial Elegance

Inspired by urban textures, the Urban Crush collection combines materials like concrete, limestone, bronze, and ash to recreate a lively city feel for modern spaces. These offerings cater to eclectic design, harmonizing with vibrant interiors. Nonetheless, the collection's dusty tones, seen up close, exhibit remarkable versatility, adding dynamism to any space.
Furthermore, with four colourways – Lime Delight, Concrete Pulse, Brass Relish, and Cinder Craze – the Urban Crush collection captures the essence of Silestone®️. This commitment to colour and trendsetting spirit sets the tone for innovative design.

Cosentino continues its mission of leading eco-friendly production in both the Silestone®️ Le Chic and Urban Crush collections. These collections are crafted using Cosentino's patented HybriQ+®️ technology, which utilizes 99% recycled water and 100% renewable energy, and incorporates a minimum of 20% recycled raw materials in their composition.
Silestone®️ represents a remarkably durable and high-performance surface. With nearly zero porosity, it resists moisture, stains, acids, scratches, and impacts, making it an ideal choice for both functional and stylish applications in bathrooms and kitchens. Silestone®️ slabs are available in standard sizes of 55 x 120 inches or jumbo sizes of 63 x 128 inches, with thickness options of 1.2 cm, 2 cm, and 3 cm.
Read more on Le Chic and Urban Crush.