As the vibrant hues of Autumn begin to grace the landscape, a timeless tradition comes to life – the Mid-Autumn Festival. This enchanting celebration is a testament to the enduring bonds of family love, transcending differences and uniting loved ones in joyous reunions. With their exquisite mooncake selections this year, Shangri-La Kuala Lumpur is proud to showcase a mesmerising symphony of flavours and textures that represents the special ties that bring families together for this joyous occasion.
Embracing Tradition and Elegance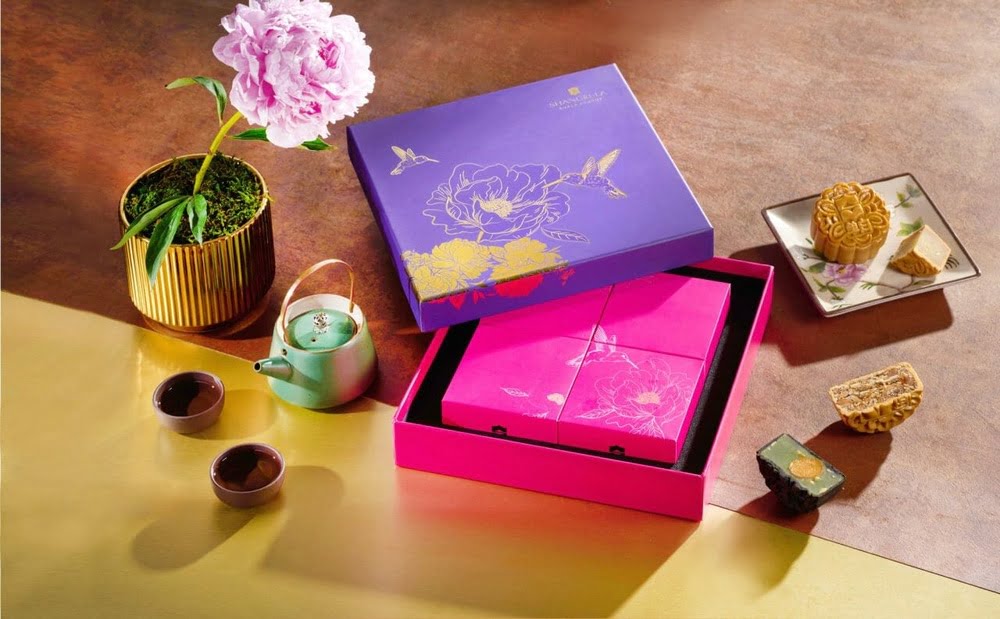 Step into a realm where culinary artistry meets heartfelt tradition. From July 15th to September 29th 2023, indulge in an array of meticulously crafted mooncakes that promise to transport your taste buds on an unforgettable journey. Inspired by the captivating world of Asian florals, each mooncake tells a story of unity and togetherness, making it a perfect addition to your Mid-Autumn Festival celebrations.
Rediscovering Time-Honored Flavours
Shangri-La Kuala Lumpur's mooncake offerings are a harmonious blend of classic and contemporary flavours, each crafted with precision and care. Dive into the rich and velvety embrace of the all-time favourite Red Bean Paste with 30-year-old dried Tangerine skin mooncake, a delightful fusion of tradition and innovation. The subtle tanginess of dried tangerine skin complements the smooth red bean paste, creating a harmony of flavours.
For those seeking a luxurious experience, the Summer Black Truffle Lotus Seed Paste with Single Yolk mooncake awaits. This exquisite creation tantalizes the senses with the earthy aroma of black truffle, perfectly balanced by the silkiness of lotus seed paste and the indulgence of a single yolk. It's a culinary masterpiece that embodies both opulence and tradition.
A Visual Spectacle
Prepare to be amazed by the captivating Bamboo Charcoal Skin with Pandan Lotus Paste & Single Yolk mooncake. Encased in striking black bamboo charcoal skin, this mooncake is a visual marvel. As you take your first bite, the fragrant pandan lotus paste and single yolk unfolds a symphony of flavours that is both delightful to the taste buds and a feast for the eyes.
Innovative Elegance
Elevate your Mid-Autumn Festival experience with the exclusive Shangri-La Tie Guan Yin Tea Lotus Seed Paste with Single Yolk Mooncake. The delicate notes of Tie Guan Yin tea infuse into the smooth lotus seed paste, creating a harmonious blend that is perfectly complemented by a single yolk. It's a tribute to both tradition and innovation, a testament to the culinary expertise of Shangri-La Kuala Lumpur.
Unveiling Thoughtful Gift Sets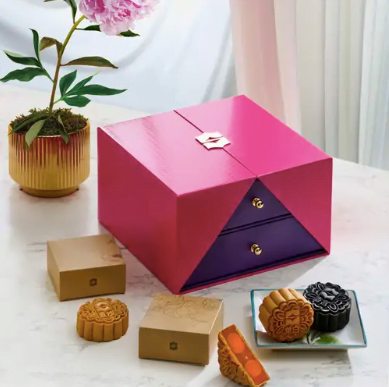 Embrace the art of gifting with Shangri-La Kuala Lumpur's meticulously curated mooncake gift sets. The pink gift box conveys gratitude and appreciation, making it a thoughtful choice for expressing heartfelt thanks to friends, family, or business partners.
For those who appreciate the essence of luxury, the regal purple mooncake packaging exudes opulence and prestige. It not only showcases the delectable mooncakes within but also reflects the care and thoughtfulness that goes into selecting a gift of significance.
Early Bird Offers and Exclusive Delights
As a gesture of appreciation for their loyalty, esteemed Shangri-La Circle members can enjoy an exclusive offer. From August 11th to September 29th 2023, a 10% discount is offered on all mooncake purchases. Explore the thirteen renditions of mooncakes online at https://boutique.shangri- la.com/index.php?region=mykl For inquiries, contact +603 2074 3900 or email festive.KL@shangri-la.com.
This year, celebrate the Mid-Autumn Festival with a touch of culinary artistry and tradition. Let Shangri-La Kuala Lumpur's mooncakes be your guide to a heartwarming and flavourful celebration, where every bite is a testament to the enduring bonds that unite us.