Shangri-La Kuala Lumpur pays tribute to Malaysia's abundant medley of tastes, traditions, and chronicles through their Merdeka Promotion. Spanning from sumptuous feasts at Lemon Garden to irresistible indulgences at The Lobby Lounge and Lemon Garden 2Go, this culinary gala not only honours the nation's 66 years of independence but also presents a delectable assortment of delights that perfectly encapsulate the diverse culinary heritage of Malaysia.
by Adriana Ozlan
Explore the flavours of Penang at the Lemon Garden Shangri-La Kuala Lumpur
Embark on an enchanting culinary voyage that honours Malaysia's culinary legacy along with flavours from Penang. Lemon Garden has been transformed to celebrate Merdeka. The restaurant is adorned with an assortment of vibrant lanterns that emit a welcoming and warm radiance.
Delight in a harmonious symphony of bona fide Penang trademark dishes, each meticulously curated by Shangri-La's guest chefs, Chef Khor and Chef Zakry from Rasa Sayang Resort and Golden Sands Resort. Originating from the heart of Penang, these culinary legends infuse their profound expertise and unbridled passion into every single dish.
Upon stepping into Lemon Garden, an innovative and thrilling addition unveils itself: dedicated stalls dispersed throughout the venue, each embodying a gastronomic journey of its own. Imagine wandering amidst these stalls, greeted by the aroma of fragrant lobak, the sizzle of savoury Hokkien mee on a heated platter, and the delightful sputtering of oyster omelettes. The distinct tang of assam laksa gracefully wafts through the air, alluring you to the following station, where the mouth-watering pasembor eagerly awaits. Each dish stands as a testament to the opulent and vibrant assortment of Malaysian flavors, featuring the irresistible Penang rojak and the iconic char kuey teow, not to mention the aromatic Nasi Kandar among other timeless classics. These offerings invite patrons to revel in the extraordinary tastes that have solidified Penang as a paramount culinary destination. The lemon garden is available for dinner from 16th August to 16th September 2023.
BUFFET DINNER:
Tuesday- Thursday: RM198 nett
PREMIUM SEAFOOD BUFFET DINNER:
Friday – Sunday: RM258 nett
Malaysian Afternoon Tea Set at The Lobby Lounge
Experience the Taste of Malaysia Afternoon Tea at The Lobby Lounge, celebrating the nation's diverse culinary heritage. Enjoy savoury delights like spicy "Otak-Otak" fish mousse on charcoal brioche, masala-cured trout with tamarind aioli puri, and more. Indulge your sweet tooth with passion mango sago mousse, Jackfruit cheesecake, and a rose bandung cendol dome. Classic scones with raspberry jam, butter, and clotted cream complete the spread.
Upgrade with a Chandon Garden Spritz for a treat. Available from August 31st to September 17th, 2023, 3:00 PM – 6:00 PM. Prices start at RM148 nett per set, with Chandon at RM248 nett. For reservations, contact +603 2074 3900 or email restaurantreservations.slkl@shangri-la.com
Lemon Garden 2Go
Lemon Garden 2GO warmly invites you to share the spirit of Merdeka with your loved ones through an exclusive range of treats, perfect for spreading unity and celebration.
Discover a delightful array of flavours, including the patriotic Jalur Gemilang Cake (1 kg), a true masterpiece of national pride. Indulge in the Chocolate Mousse with Pisang Emas (1 kg) for a heavenly blend of local goodness. For a harmonious blend of tradition and innovation, savour the uniquely crafted Otak-Otak Croissant (100g per piece). The elegant and rich Merdeka Praline (25 pcs per box) is a captivating choice.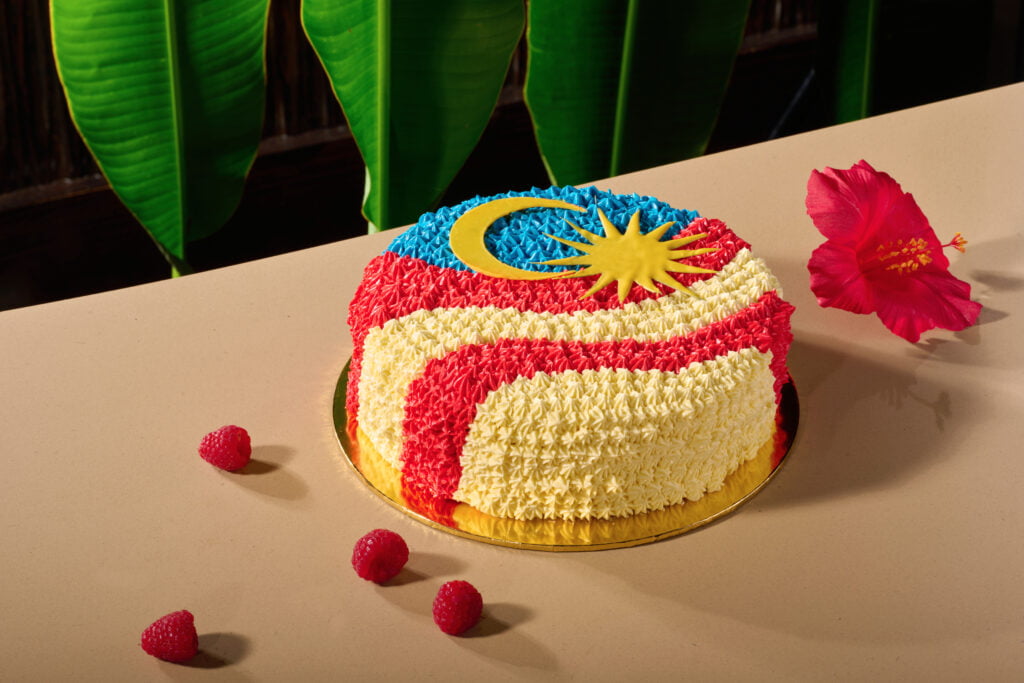 Starting from just RM 15 nett, these Merdeka Goodies are more than just treats; they're gestures of unity and harmony that transcend taste
Available for delivery and takeaways from August 16th to September 16th, 2023.
Purchase yours here.
For reservations and inquiries, please call +603 2074 3900 or email restaurantreservations.slkl@shangri-la.com
You Might Like