SneakerLAH returns for its seventh edition in partnership with Samsung Galaxy Z Flip5 | Z Fold5. This annual gathering draws sneaker and streetwear fans, collectors, and traders from Malaysia and beyond. The lifestyle event serves as a hub for all things sneaker and streetwear.
by Adriana Ozlan
SneakerLAH Debuts with a New Home
This year, SneakerLAH moves to its new venue at MITEC (Malaysia International Trade and Exhibition Centre). The anticipated event will take place over the weekend of October 7-8, 2023. The event has significantly expanded since its inception in 2015 at Lot 10 shopping mall. This year, it introduces the Vintage Corner, a dedicated area for vintage clothing enthusiasts. Besides that, ConcertLAH, is a complete music concert featuring local and international artists in a separate hall adjacent to MITEC's main event space.
A Creative Collaboration with Muntasir Mohamed and an Exciting Lineup with Full-Size Run Hosts at SneakerLAH
This year, SneakerLAH collaborates with the talented Malaysian artist and designer Muntasir Mohamed to create the event's key art and visual theme. Muntasir, well-known in the scene for designing merchandise for various local and international brands like the Billionaire Boys Club and huge international artists like Drake and Olivia Rodrigo, is lending his creative expertise.
SneakerLAH founder Bryan Chin emphasizes the ongoing commitment to improving the SneakerLAH experience, especially with the move to MITEC. This expansion allows for the introduction of the Vintage Corner and ConcertLAH segments. This is aimed at attracting new audiences while enhancing the event for the existing community.
Furthermore, special guests Brendan Dunne and Matt Welty are returning to SneakerLAH after their previous appearance in 2019. This time, they are accompanied by their co-host Trinidad James, completing the full lineup of hosts from Complex's popular weekly talk show about sneakers and style, Full Size Run. The trio will make appearances on both days of the event, with Trinidad James also performing as a special guest at ConcertLAH.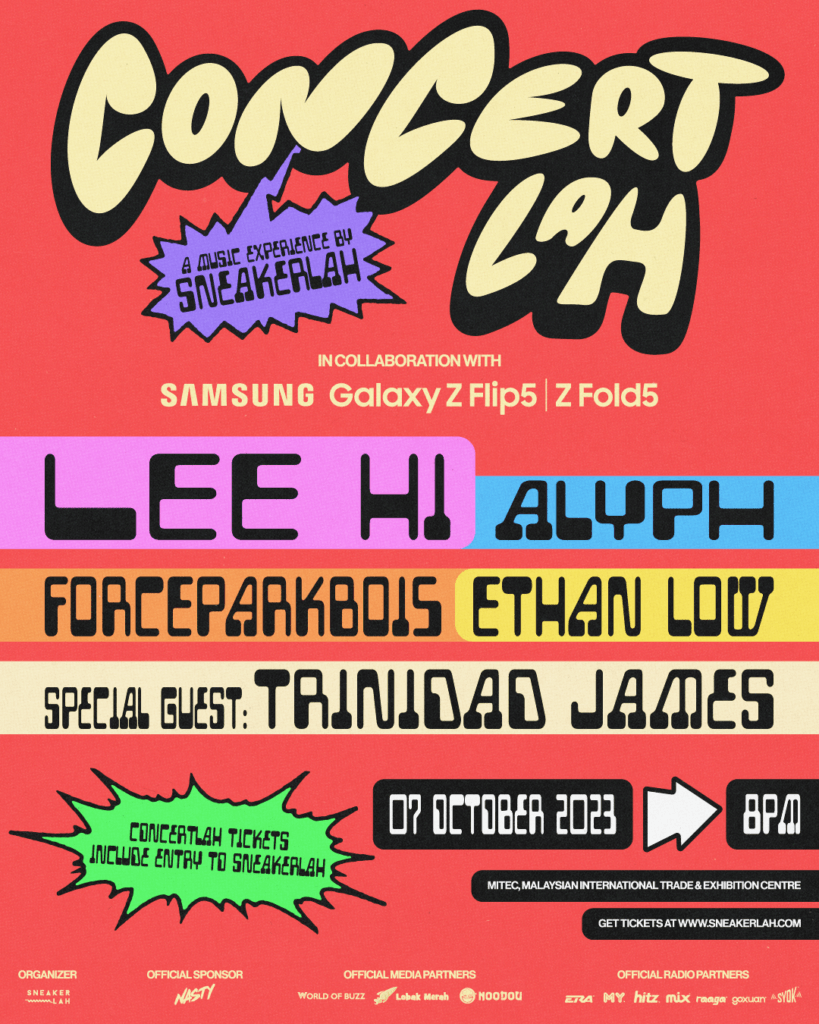 The Ultimate Sneaker Experience with Patta World Tour, Rare Pairs Exhibition, Kicks on Wheels, and Much More!
The Patta World Tour takes centre stage, offering a documentary screening of 'Patta For Life' and appearances by Patta founder Edson Sabajo.
Exclusive exhibitions at SneakerLAH promise added excitement. Local sneaker collector B53 presents the Rare Pairs exhibition, a rare opportunity for sneakerheads to view some of the world's most elusive sneakers in person. Additionally, Motorsport Playground's Kicks on Wheels will captivate visitors with sports cars reimagined as popular sneakers.
The weekend offers more attractions, including a Rising Star 3-on-3 basketball tournament and a live podcast session by BorakLAH with special guests. Besides a bustling food truck park to keep attendees energized, exclusive product drops featuring sought-after SneakerLAH x Peak KL merchandise, captivating fashion showcases, the traditional SneakerLAH trading pits, and thrilling lucky draws with prizes from Samsung and Atmos, among others.
An International Sneaker Extravaganza Concerts and an Exclusive Marketplace
This year, ASICS joins SneakerLAH alongside other global and local brands like Skechers, Patta, Keen, Crossover, and more. The event's highlight is the SneakerLAH marketplace, featuring hot sneakers, streetwear, and vintage items from over 60 vendors.
SneakerLAH 2023 includes ConcertLAH, with performances by Lee Hi, ALYPH, ForceParkBois, and Ethan Low. Trinidad James from Full Size Run will be a special guest on the first night. Local artists and DJs will also perform, with Dan $hiv as the emcee.
Tickets for #SneakerLAH2023 are available at www.sneakerlah.com, with VIP options offering early entry, express lanes, freebies, and a chance to win prizes in daily draws.
You Might Like