A Total Hair, Scalp and Skin Care Solution
Embrace a revolution in hair care with Panasonic's EH-NA98 nanoe™ Hair Dryer, now available in a trendy navy hue that stylishly merges beauty and function. Tracing back an impressive 80-year lineage of hair dryer development, Panasonic stays true to its mission of prioritizing ultimate hair drying comfort and efficacy.
Innovative Technology for Hair Health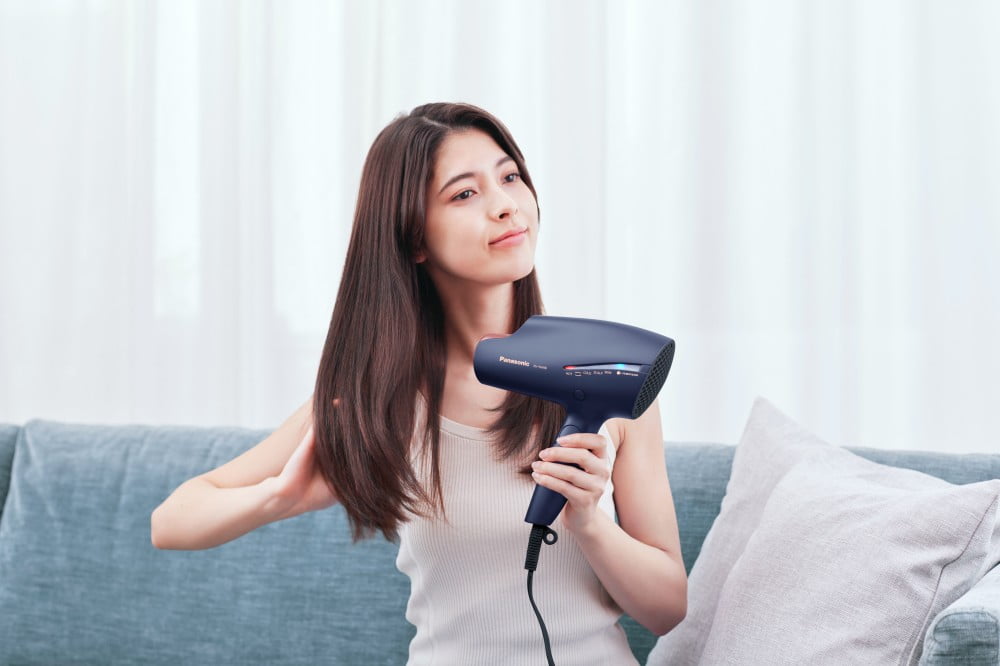 Boasting an ultra-fine nanoe™ technology that contains around 1,000 times the moisture held by ions, the EH-NA98 hair dryer seeps into the hair shaft to adjust water balance. The result? Shiny, smooth hair that is easy to manage and resistant to static electricity. Simultaneously, the nanoe™ moisturizes your scalp to keep it healthy, warding off dryness-induced damage.
Beyond Ordinary: The Double Mineral Ion
But what sets the EH-NA98 apart is its provision of Double Mineral ion in addition to nanoe™. This powerful combo tightens the cuticle and creates hair that's not only stunning but also resistant to damage from brushing and environmental aggressors such as UV rays.
Multifunctional Modes for Complete Care
The EH-NA98 nanoe™ Hair Dryer is packed with varied modes for targeted care of your hair, scalp, and skin. The Scalp Care Mode dries your scalp gently with warm, moisture-infused nanoe™ air, reducing dryness and promoting scalp health. The Skin Care Mode, when used post-drying for a minute, retains skin moisture, leaving you with a hydrated glow.
Innovative Features of the Panasonic EH-NA98 nanoe™ Hair Dryer
The innovative Hot/Cold Alternating Mode switches the airflow between hot and cold, taming waves and reflecting light for a lustrous mane. To ensure comfortable drying in any season, the Intelligent Temperature Control Mode adjusts the airflow based on the ambient temperature.
Quick-dry Nozzle and User-friendly Design
Enhanced with Panasonic's unique Quick-dry Nozzle, the EH-NA98 generates strong and soft airflows that separate hair strands for rapid drying. And let's not forget about comfort – the dust-resistant filter, easy-to-use sliding switch, and foldable handle make this hair dryer an absolute joy to use.
Reimagine your beauty routine with the new navy Panasonic EH-NA98 nanoe™ Hair Dryer – because effortless beauty and enriched lives are what Panasonic promises and this hair dryer delivers just that.